Despite the best efforts of a holdout Tea Party loon, Congress finally passed a $2 Trillion stimulus package last week, the first step in shoring up the U.S. in the fight against the COVID-19 pandemic. As part of this federal response, each state government will receive at least $1.25 billion. The District of Columbia will receive $500,000.
Since DC is regarded as a state when it comes to federal grants, highway funding, education dollars and food assistance, many here feel that someone in the Administration or GOP leadership actively and intentionally shafted the District when the bill was crafted in the Senate.
The District's population — 702,455 people — is greater than that of two states, Wyoming and Vermont. Unlike U.S. territories, DC residents pay federal taxes, the most in federal taxes per capita than any other state. The coronavirus relief bill originated in the GOP-controlled Senate, and DC has no senators, so here we are. There's a reason DC license plates read "Taxation Without Representation."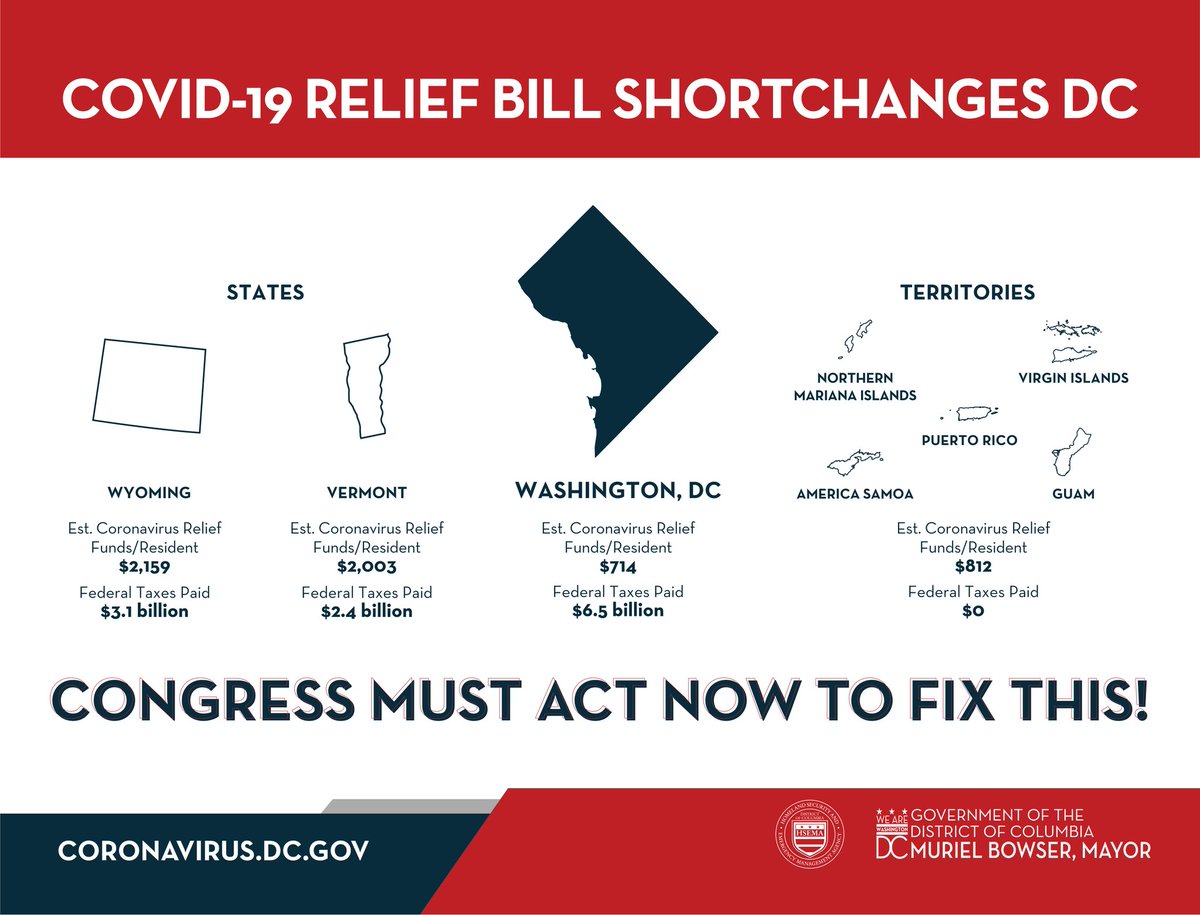 More:
"D.C. was intentionally classified as a territory in virus-aid bill, lawmakers say," Jenna Portnoy and Fenit Nirappil, Washington Post
"Stimulus bill classifies D.C. as a territory, shorting it funding leaders expected," Drew Hansen, Washington Business Journal
"36 Democrat & Republican AGs Join AG Racine Requesting D.C. Be Treated As a State For Purposes of Receiving State Level Allocation For Coronavirus Relief Funding," Office of the Attorney General, District of Columbia news release
"Federal Aid Package Shortchanges DC, Forces District to Rely More Heavily on Reserves," Tazra Mitchell, DC Fiscal Policy Institute
____________
Short link: https://wp.me/p6sb6-uEi
Top image mashed by Mike Licht. Download a copy here. Creative Commons license; credit Mike Licht, NotionsCapital.com
Comments are welcome if they are on-topic, substantive, concise, and not boring or obscene. Comments may be edited for clarity and length.
Tags: Coronavirus, COVID-19, DC, District of Columbia, federal coronavirus stimulus bill, novel coronavirus, politics, Virus Relief:, Washington DC