"… there are now fewer days between mass shootings and more fatalities. In the 1990s, an estimated 159 people were killed in mass shootings. That figure rose to 171 people in the 2000s. So far this decade, at least 381 people have been killed in mass shootings."
"… less deadly mass shootings rarely receive the same degree of media attention because they simply happen so frequently. The last mass shooting prior to Sunday happened just four days earlier, when Scott Allen Ostrem, 47, walked into a Walmart in Denver and fatally shot two men and a woman, before leaving the store and driving away."
— "Not your imagination: mass shootings now happen more frequently in the US," Mona Chalabi, The Guardian

Graph by Mona Chalabi, based on Mother Jones database: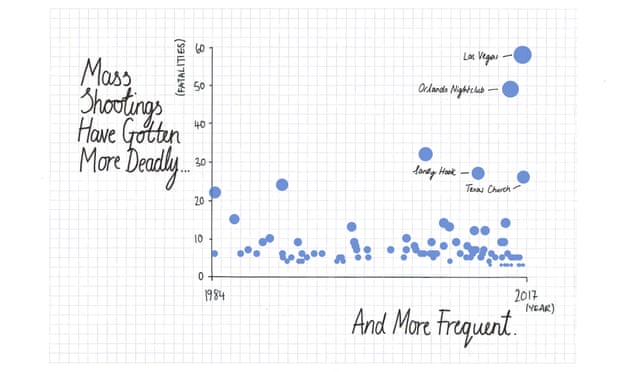 More:
"No Matter How You Measure Them, Mass Shooting Deaths Are Up," Rob Arthur, FiveThirtyEight
_________________
Short Link: https://wp.me/p6sb6-qEN
Image by Mike Licht. Download a copy here. Creative Commons license; credit Mike Licht, NotionsCapital.com
Comments are welcome if they are on-topic, substantive, concise, and not boring or obscene. Comments may be edited for clarity and length.
Tags: firearms, frequency, Guns, mass shootings, murder, public safety, The Guardian, USA